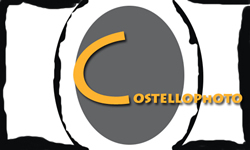 3.27.13 Las Vegas NV
Well Spring is springing and shutters are a'clickin! so I thought I'd look back at some of our iconic photographs and tell stories behind them or conversely you can write your own story and sent it in to  us via the comment section, this will be fun !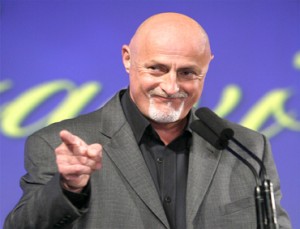 This is a perfect example of convention / Corporate event photography , here we have great expression and movement.
This can only be achieved  with a good long lens  200 mm or more and fast  f2,8 , so what that means is  your lens will zoom in from a distance , this is important as you don't want to interfere with the speaker , distract or just plain annoy them, and  the F2.8  means your lens will operate in lower light situations and still be in focus.
Choosing our moment to shoot is also very important, you want to avoid open mouth or closed eyes or that awkward moment with a bizarre manic expression, so take your time and try to anticipate your subjects movement. So what should the caption read ? " You yes you I'm talking to you"  " Is that cell phone call for me ? "  I'm being very polite here  but feel free to add !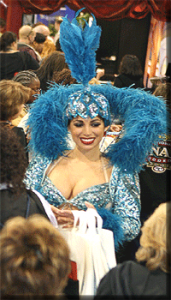 Now this has become quite a famous image, we used it for a logo for a couple of years and it's on some of our older  business cards, very popular. If I remember correctly this was an opening of a large convention at Mandalay bay on the Las Vegas Strip, this young lady was swamped in moments , I was up a ladder trying to get a decent shot of the crowd and ,well how could you not notice her!  The original shot was much wider but even in this cropped and low res version you can still see the action.  As a matter of fact  all the feathers you see here are real ostrich , quite a clever design as the feathers around the shoulder make up for the lack of height in the head dress making it much easier to wear and not as heavy, cleaver huh!
What you see in the back ground is the unfinished Wynn Hotel and where we are is on top of the  'Cloud' in front of the Fashion Show Mall on the Las Vegas Strip a large metal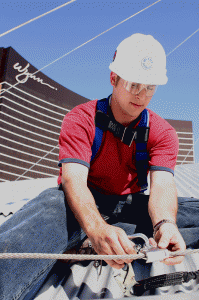 structure  about 100 ft long and 75 wide, made of aluminium and hollow, Well it was the middle of summer here in Las Vegas 120 not uncommon , so the job was to get up on the cloud and shoot this technician exhibiting safety  what they didn't tell me was  you had to crawl through the structure to get to the other side, now i don't particularly like heights , even less when I've just got over Kidney stones and am taking powerful pain pills, didn't really think of the implications. As we started to crawl thought the inside of what is basically a tin can  in direct heat from the noon day sun I start to loose consciousness, now I 6'2″ and 200 lbs I quickly figure that if I pass out here I'm dead , the technician couldn't possibly carry me out side  and the only way in and out was through a small hatch, I had to keep going at all costs, so it's 120 out side and god knows what inside 200 degrees I would not have surprised me . So I get to the other end and get to the hatch ,a blast of 120 degree air feels great and cooling ! I stick my head out and click away as quick as I can , get the shot, actually many great shots surprisingly , and make my way back to the other end ,out through the hatch, down a wobely ladder and in to the air conditioned mall.
Got to say a close call there not one I intend to repeat anytime soon.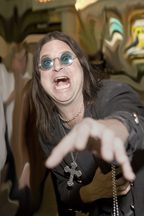 Ok so you could be fooled to ! If you come to Las Vegas you need to visit down town, here you'll find some great hotels like Golden Nugget ,  Four Queens,  Binions , 'D' and others , it's changing every day as there is ca bit of a revival going on, Fremont Street has been Closed to traffic for years now, and has an amazing canopy which is like a huge screen tv, and a great sound system to boot !  Fremont Street has also become a great location for movies and commercials to be shot, but sadly it also attracts a lot of undesirables who dress up in costumes and demand money for a picture, but in the mix are some really great look a-likes, professionals if you like, with a smattering of Show girls to , you can tell the really good ones, they put on a show and just have the finesse you'd expect in any other location.
About a year ago I spent some time down town and shot the more interesting characters, and was taken a-back by Ozzy Osbourne ,and his wife Sharron, as it would not be unrealistic to run in to that couple in Las Vegas , perhaps not on  Fremont Street but still not totally unlikely , just for a moment I was taken in, just for a split second a real 'gotcha ' moment .
As I spent more time here I also noticed the rather bad behavior of some characters , I watched Sponge Bob Squarepants get arrested , a few fights between Mickey and Mini Mouse, but also the rudeness to the more professional actors there, seriously I could not do this for a living, but a living you can make, one actor there I watched as she and her partner made $200.00 an hour each .
My photographic efforts were displayed at the Golden Nugget for a week or two to critical acclaim  that was nice but no $200.00 and hour !
---






by